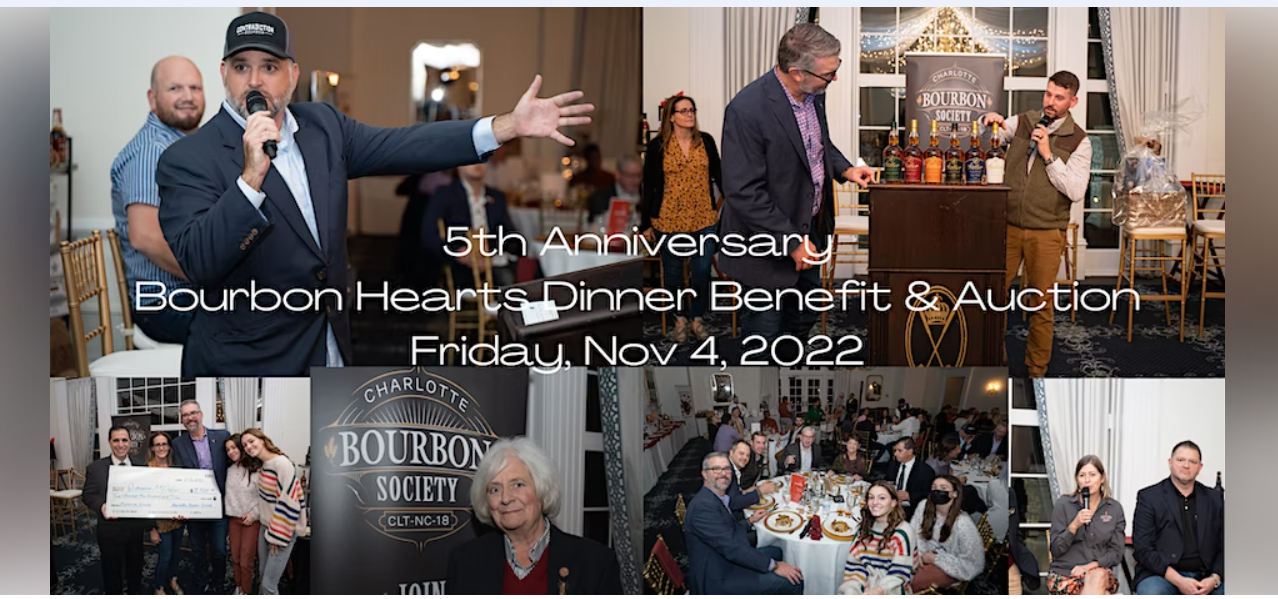 5th Annual Bourbon Hearts Dinner Benefit & Auction
---
We're so excited about this year's bourbon dinner event – a milestone celebration!  This is our fifth year hosting the "Bourbon Hearts Dinner Benefit & Auction" at Providence CC – benefiting the American Heart Association (AHA) and Heart Bright Foundation. We've raised over $200,000 over the past four years and we're raising the bar higher for […]
We're so excited about this year's bourbon dinner event – a milestone celebration!  This is our fifth year hosting the "Bourbon Hearts Dinner Benefit & Auction" at Providence CC – benefiting the American Heart Association (AHA) and Heart Bright Foundation. We've raised over $200,000 over the past four years and we're raising the bar higher for this year's event!  It's going to be a super special evening! And you don't want to miss out on the silent auction items! #bottles
Here's the lineup for the evening… My old college friend and fellow UNCC 49er:  JOHN LITTLE, Founder, CEO & Former Head Distiller at Smooth Ambler Spirits (SAS)- along with his National Brand Ambassador, Jonathan Wingo! John and Jonathon are ready for a night of fun along with some of the best NC distilleries, and some of our Kentucky friends who will be joining us as well.
PETE & VIENNA BARGER are also back from Southern Distilling Company (SDC).  SDC continues to produce fantastic bourbons and they've received a dozen+ awards.  SDC is a high-capacity craft distillery located in Statesville, NC offering premium contract distilling services to clients around the world.
What you can expect:
First and foremost – This event is for ALL! Men, Women, Couples, and bourbon novices to enthusiasts!
4:30-6 pm Three "pre-event" Speakeasy events (these are limited paid events and include the main event table for eight)
5:30 Registration
5:30 – 7:00 pm – Silent Auction, Passed Apps and Charcuterie Prior to Dinner
Complimentary Beer & Wine (for those who might bring a guest that doesn't drink bourbon)
Bourbon Samples Prior to Dinner w/ Southern Distilling Company, RY3 Whiskey, Montana Whiskey Company, Weldon Mills, George Dickel, and others!
A large selection of silent and LIVE auction items
7:00 PM – DINNER PROGRAM BEGINS
A fabulous 4-course meal prepared by Providence Country Club's very own Executive Chef, Brandon Mullis. Brandon's been putting a lot of thought into our dishes to complement each whiskey pour!
Like last year, we'll have reserved space outside for those who want to enjoy a cigar w/ their bourbon!
MORE DETAILS will be forthcoming. We always have some nice last-minute surprises to make this event that much more special!
SPONSORSHIPS ARE AVAILABLE & AUCTION ITEMS ARE WELCOMED! Call Ken at 704-900-9468 to inquire!
Please drink responsibly.  Uber or Lyft are highly recommended for your safety and others.
Purchase Reminder: Must be 21+ to attend Bourbon Hearts Dinner Benefit & Auction. 
COVID STATEMENT: Covid cases are on the rise again. We ask that all guests use their best judgment with mask use for their personal safety.
EVENT CANCELLATION: In the event, our event gets canceled due to COVID mandates beyond our control, we will work with Providence CC to find a new event date and your ticket will be transferable.
TICKET SALES ARE NON-REFUNDABLE: for tax purposes, the retail value of an individual ticket is $125.
AUCTION ITEMS: We are not responsible for 1) any auction items paid for and not picked up within 60 days of the event, and 2) any auction item(s) not used within the specified timeframe by the donor.
Terms & Conditions: Upon ticket purchase ticketholders agree to our Terms & Conditions: granting permission to Bourbon Hearts Dinner organizers the rights of your image, in video or still, and of the likeness and sound of your voice as recorded on audio or video tape without payment or any other consideration; agreeing that your image may be edited, copied, exhibited, published or distributed and waive the right to inspect or approve the finished product wherein your likeness appears; and, waiving any right to royalties or other compensation arising or related to the use of my image or recording and understand that this material may be used in diverse educational settings within an unrestricted geographic area. These Terms & Conditions apply in perpetuity, for all content created and collected during the Annual Bourbon Hearts Dinner Benefit.
Please read our 'Event Waiver and Release' at: https://cltbourbonsociety.com/terms/