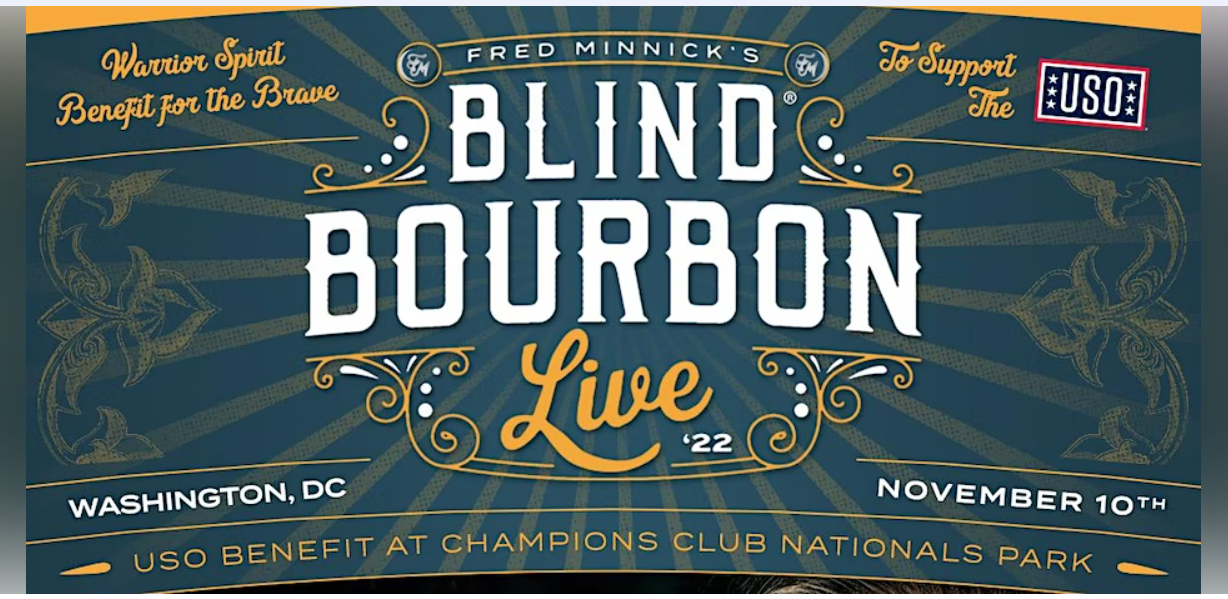 Blind Bourbon
---
At Blind Bourbon Washington, D.C., you're supporting the USO, an organization near-and-dear to the hearts of the organizers Fred Minnick and Curt Kolcun, both of whom are veterans and once relied upon the USO. As a bourbon fan, you're in for an incredible time and an opportunity to taste bourbon from the 1930s, an AH […]
At Blind Bourbon Washington, D.C., you're supporting the USO, an organization near-and-dear to the hearts of the organizers Fred Minnick and Curt Kolcun, both of whom are veterans and once relied upon the USO. As a bourbon fan, you're in for an incredible time and an opportunity to taste bourbon from the 1930s, an AH Hirsch 16-year distilled in 1974, and the elusive Pappy Van Winkle 23-year. But most importantly, please know that you're also a part of the Warrior Spirit Benefit for the Brave to support the USO.
Parking Included: USO will send a "know before you go" to ticketholders with details of the specific Nats park garage prior to the event. So make sure you use your group's best email.
General Admission
This isn't some run-of-the-mill watering hole tasting. There will be blindfolds and unknown bourbons to intrigue your palate. The general admission flight consists of five blind pours, including an allocated bourbon, and a training whiskey. The goal here is to not only learn how to taste but to do so without having a brand's influence over your expectations. We will have an allocated bourbon in here that people stand in line for. Will it be your favorite? We shall see!
How it works: You will wear a blindfold during professional sensory training, undergo palate training, learn a little about bourbon's history, and then, you will be sanctioned as an official American Spirits Council of Taster's judge for this taste-off. You will analyze the bourbon in a blind flight and choose your favorite. The crowd will vote, using the QR code on the tasting mat, and Fred reveals the products you've been tasting at the end, giving a little color commentary on each one.
What are the bourbons? Taste to find out.
GA Ticket Includes
Blind Fold
Tasting Mat
Sensory Training
5 Pours of Unknown Bourbon
Food: Meats, cheeses, and ballpark faves
1 "Glencairn to take home
Parking
VIP (limited)
VIPs get an incredibly intimate experience with host Fred Minnick. After the general admission Blind Bourbon session, you will taste the following…
Your Bourbons (donated by collector Curt Kolcun)
5-Year-Old Timbrook Bottled in Bond (Distilled 1938, Bottled 1943)
Glencoe Bottled in Bond (Distilled 1937, Bottled Spring 1943)
16-Year AH Hirsch (Distilled 1974)
23-Year Pappy Van Winkle
6-Year-Old Fitzgerald Bottled in Bond (Distilled 1969, Bottled 1975)
About Your Host Fred Minnick
Since returning home from Iraq as a war veteran in 2005, Fred Minnick has become one of the most dynamic media personalities in the United States, sharing his expertise on spirits with mainstream audiences. He has authored seven books and become a specialized celebrity, appearing on Bravo's Top Chef and Discovery's Moonshiners, as well as hosting Amazon Prime's Bourbon Up and Spirits Network's Frontier Filmmakers and The Curation Desk. He has appeared on the TODAY Show, Good Morning America, ESPN, CBS This Morning, NPR, and many others. Minnick is the co-creator and curator of the Bourbon & Beyond Music festival with Danny Wimmer Presents (140,000 attendees in 2022), which has featured Pearl Jam, Chris Stapleton, Zac Brown Band, Lenny Kravitz, John Mayer, Robert Plant, and many other great musical acts. He is a co-host of the Bourbon Pursuit Podcast and hosts his Webby Honoree, Hermes Creative Awards Platinum-winning Podcast The Fred Minnick Show (PodcastOne), which features interviews with musicians, athletes, and other celebrities including Peyton Manning, Ludacris, Lindsay Ell, Terry Bradshaw, Ashley McBryde and more. Minnick, a Louisville, KY-based father of two, is also an avid music fan. He is a longtime judge on the San Francisco World Spirits Competition and founder of the American Spirits Council of Tasters. He has authored several best-selling books, including Bourbon Curious; Bourbon; Rum Curious; and Whiskey Women.